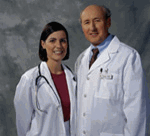 Physician & Hospital Discounts



To locate a provider online, click here.
Going to the doctor doesn't have to cost an arm and a leg. Save 10% to 40% at participating doctors' offices. Get the care you and your family deserve for less.
Highlights
Includes family doctors, specialists, alternative care providers, facilities and hospitals.
The program has one of the largest doctor networks in the nation.
No age or health restrictions. Anyone can save with this benefit.
For hospital visits, members MUST verify hospital participation prior to any procedures. For E.R. visits, within 48 hours of service member must contact network. A representative will coordinate all of the resources and work with the provider/facility for a contracted savings.
Disclosures
Hospital discounts NOT available in Maryland, Vermont and West Virginia.
Physician Visit benefit is not available to Vermont residents.